Republican Governors Respond to bud light with koozies made for "real women", as Americans across the country join forces to boycott the controversial beer.
The new women's beer pouch comes after famed beer company Bud Light came under fire for recruiting controversial transgender influencer Dylan Mulvaney, a biological man who identifies as a transgender woman, to sponsor the brand.
In a Twitter post on Monday, Gov. Sarah Huckabee Sanders, R-Ark., announced the launch of "Real women" koozies put up for sale following the Bud Light controversy.
"Today we salute all the real women leaders in this great country. Real women don't have to pretend," a narrator said in an ad, lambasting companies that "can no longer tell the difference between the true and false". The ad spoofed Bud Light's famous "Real Men of Genius" ad campaign from decades past.
FMR ANHEUSER-BUSCH EXEC ON BUD LIGHT MARKETING VP TAKES LEAVE OF LEAVE: WHO WILL HE BE RESPONSIBLE TO?
"Real women, doing real things. Real women worked too hard for that," the narrator said over a photo of Sanders hunting.
BUD LIGHT 'BET' ITS CLIENTS WILL 'FORGET' DYLAN MULVANEY CONTROVERSY: ANSON FRERICKS
"Some big companies can't tell the difference between right and wrong anymore. Real people know the difference… Now you can salute the real women in politics at each barbecue and tailgate. And if it covers the label of a woke big business, well that works too," the clip said.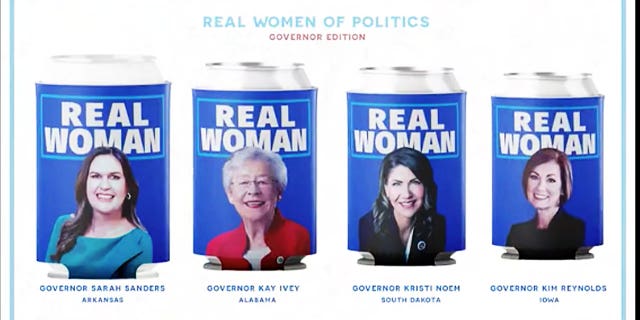 Sanders threw the koozies alongside another woman GOP governors. Kristi Noem from South Dakota, Kay Ivey from Alabama and Kim Reynolds from Iowa.
CLICK HERE TO DOWNLOAD THE FOX NEWS APP
Bud Light faced immediate backlash for the branding deal, and Alissa Heinerscheid, who ran the company's marketing vice president responsible for the campaign, was set to leave of absence. Heinerscheid was reportedly replaced by Budweiser's vice president of global marketing, Todd Allen.