Everyone makes mistakes at work. But there are some missteps you just can't get back from, as tech company Arthur Grand Technologies is currently learning the hard way.
The company is at the center of an uproar on social media and on LinkedIn after posting an openly discriminatory job ad – and as often happens in these situations, their attempts to explain themselves have only gotten worse things.
Tech company Arthur Grand Technologies has posted a racist job posting seeking only white US-born applicants.
No, that's not hyperbole, and yes, that's that bad.
The position was for a high-paying business analyst position in Dallas, Texas, working on Salesforce and insurance claims for Warren Buffett's Berkshire Hathaway company. It included the usual job description and compensation information, as well as some overtly discriminatory – not to mention illegal – requirements for applicants.
The racist job posting quickly went viral on Reddit and LinkedIn due to its openly racist hiring requirements.
The job was posted on Indeed with an internal memo about the race of applicants which obviously needed to be removed before posting. Unfortunately for everyone involved, the note made it to the live version of the job posting. The ad read "Note: Only U.S. citizens born [White] who are local within 60 miles of Dallas, TX [Don't share with candidates]."
The racist job posting quickly went viral on the internet as people expressed their shock and outrage at the company's apparent racial requirements for its applicants.
A Reddit user called the job posting "illegal and nauseating" while posting a screenshot on the platform that generated thousands of angry comments.
In the comments, Reddit users urged them to report the company to the federal government for discrimination, and several users identifying themselves as attorneys urged all employees reading to file a lawsuit against the company.
"Every person of color who works for this company probably has status," such a commentator wrote"and should start discussing their salary immediately in preparation for a discrimination lawsuit."
Others applauded whoever posted the job ad for speaking out against the company's discriminatory hiring practices. "Kudos to this recruiter for being lazy or maliciously conforming," a user commented.
On LinkedIn, several black professionals called out Arthur Grand Technologies for what he called an error in a series of since-deleted posts. "This is so sick," a black woman commented on one of the posts. "I live in Dallas and have been applying for almost a year! Seeing this in black and white is so disheartening, but the reality I guess."
Arthur Grand Technologies claimed the racist job advertisement was posted by a new employee who had since been made redundant.
The company apologized for the incident in a series of LinkedIn posts, all of which were deleted after sparking further outcry as users pointed out a host of discrepancies in the seemingly ever-evolving story of Arthur Grand Technologies.
In its first attempt to quell the uproar, as seen in the screenshot below, the company claimed to a LinkedIn user that a new employee had posted the announcement.
Photo credit: Arthur Grand Technologies, LinkedIn
"We conducted an investigation," the company wrote, "and discovered that a new junior recruiter at our company was responsible for the offending job posting." They went on to say that the employee was fired.
This story, however, did not last long.
The Arthur Grand Technologies story then changed in a later post on LinkedIn, and now no one believes what they say.
When that initial explanation did nothing to quell the uproar, Arthur Grand Technologies followed up with a new LinkedIn position claiming that the job offer was a malicious act by a disgruntled former employee, as shown in the screenshot below.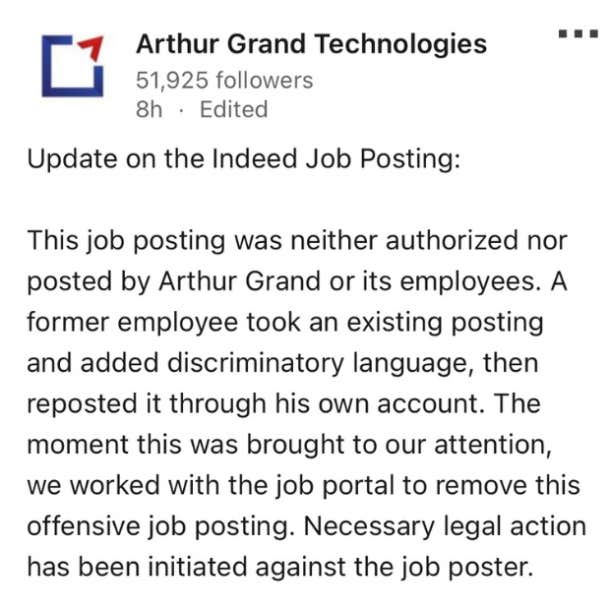 Photo credit: Arthur Grand Technologies, LinkedIn
Related stories from YourTango:
In their new post, Arthur Grand Technologies claimed that "a former employee took an existing post and added discriminatory language, then reposted it through his own account." They went on to say they had taken "legal action" against the employee.
If this story doesn't sit well with you, you're not alone, especially since as a tech company, this presents a pretty implausible gap in data security for a tech company. In a series of comments deleted by the company, seen in the screenshots below, LinkedIn users blamed the company for how its stories didn't add up.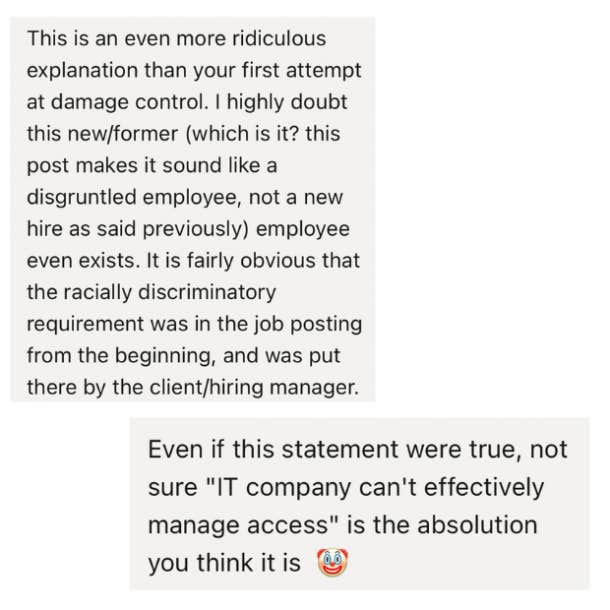 Photo credit: Arthur Grand Technologies/LinkedIn
"Even if that claim were true," wrote one commenter, "I'm not sure 'the IT company can't effectively manage access' is the absolution you think." The commenter added a clown emoji for added effect.
For others, it was simply the way the story kept changing that didn't pass the smell test. "This is an even more ridiculous explanation than your first attempt," another commenter wrote. "I highly doubt that this new/former employee (who is it?…) even exists."
The company has since locked down its social media presence and disabled comments on LinkedIn and other platforms.
Either way, if anyone is looking for a new position in crisis PR, we know of a company that is almost certainly hiring.
John Sundholm is a news and entertainment writer who covers pop culture, social justice, and human interest topics.