The chances of being able to replace Siri as the default voice assistant on your iPhone are practically nil. But there is a way to quickly access Bing Chat on the iPhone that you probably didn't think of.
Like Siri, you can trigger it from anywhere on the iPhone, regardless of the application you are in at the time. It doesn't go directly into Bing Chat, however, there will be an additional tap, but I can't think of a faster way.
There's a small amount of setup to do, and it also involves using the Shortcuts app. But once you're done, you'll be able to open Bing by simply tapping the back of your iPhone.
Before you start
There are some prerequisites for this that you need to know before you start. The first is that you can only use the Back Tap on iPhones starting with iPhone 8.
The other, as mentioned, is that you will also need the Shortcuts app. If you don't currently have it, get it from the App store (opens in a new tab) free.
And, of course, the latest version of the Bing app for iOS (opens in a new tab).
How to Quickly Access Bing Chat from Anywhere on Your iPhone
The process is basically two-step. The first is to create a shortcut to launch the Bing app. The second is to assign this hotkey to be triggered from the Back Tap function.
To create the shortcut:
1. Open the Shortcuts app on your iPhone.
2. Press the + button to create a new shortcut.
3. Press Add action.
4. Search Open app then press it.
5. Press the blue text which says App.
6. Choose Bing from the list.
7. Press Do.
It's probably worth giving it an easy-to-remember name, especially if you have other shortcuts in play. For example, I called mine simply "Open Bing".
The shortcut is now created, so all we have to do is tell the iPhone to run this shortcut when you press the back of the phone.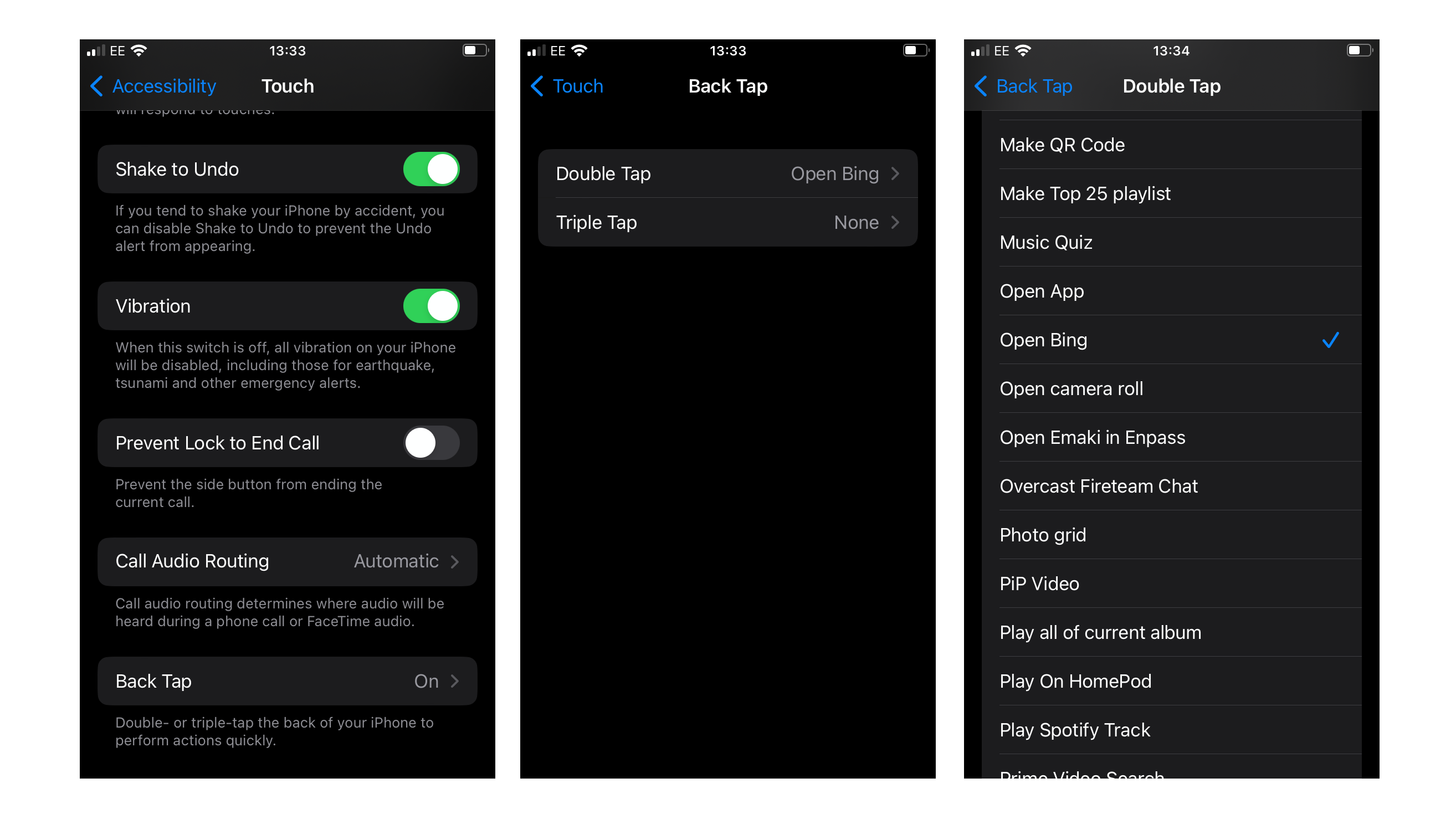 1. Open Settings.
2. Go to Accessibility > Touch.
3. At the very bottom, locate and open the Press return settings.
4. Tap either Tap twice Or Triple tap depending on the number of clicks you want to trigger the action.
5. Scroll down and locate the shortcut you created above and select it.
That's all we can say about it. Now, from anywhere on your iPhone (assuming it's unlocked), you just double-tap or triple-tap, depending on what you've chosen, and the Bing app will open for you. From there, it only takes one more click to launch Bing Chat.
The shortcut can also be run from the lock screen, but you'll need to unlock your iPhone to use the app. But it's still pretty good that you can do it and jump straight into Bing.
Proper shortcut support would be great
If Microsoft were to integrate full and proper support for Bing app shortcuts, then, in theory, we could have a trigger to launch directly into Bing Chat rather than having to press the button. Or jump into any other app features, such as weather or Microsoft Rewards.
Right now we're limited because that support is lacking, so all we can do is use the built-in "Open app" action to trigger whatever we want. But with proper shortcut support, you can create more complex actions and even trigger them with Siri.