Note that this is about the jet engine company, not the car one.
We've long had a problem here
The basic and underlying problem that Rolls-Royce (OTCPK:RYCEY) (OTCPK:RYCEF) had faced is an extinction level one. At heart, it's a maker of jet engines, or jet turbines if we prefer. There are many who insist that jet engines – jet turbines – must no longer be used because of this climate change thing. Therefore the Rolls-Royce business faces that extinction level event of simply not being able to continue to do what it's a world leader in.
Be a pity, obviously, but better that than Gaia boiling to death and all that.
Of course, there are varied ways that this might not happen. For example, the world could simply shrug about climate change. No, I do not expect that to happen. It might all be something of a scam – no, I don't believe that and even if I did that wouldn't change what the politicians believe and what they might do.
That entire move to electric vehicles and lithium batteries and so on shows that the politicians – whatever else is true or sensible – are taking climate change seriously. So, and therefore, so must we as investors. We can also look at those attempts at battery-powered airplanes (of varying levels of likely success) and the talk of hydrogen powered planes, ammonia even, as further evidence.
Fossil fuel powered jet engines face that extinction level event.
But Rolls-Royce isn't just jet engines.
It's true that Rolls-Royce isn't just jet engines. There's the modular nuclear reactor programme for example. That's got problems with cashflow and money but those are entirely surmountable. It's actually the government grant that is running out. I also have my doubts about whether the modern world is going to licence a new nuclear design, however good or sensible it is.
But even then the real Rolls-Royce part of those reactors is the turbine they drive. Simply because that's where RR is a world leader, that's where they add value. Turbines, jet engines, they're all very much the same basic technological idea. Which is why the expertise travels across the two seemingly different products of course.
It's also possible to look at Rolls-Royce's own annual report and see this: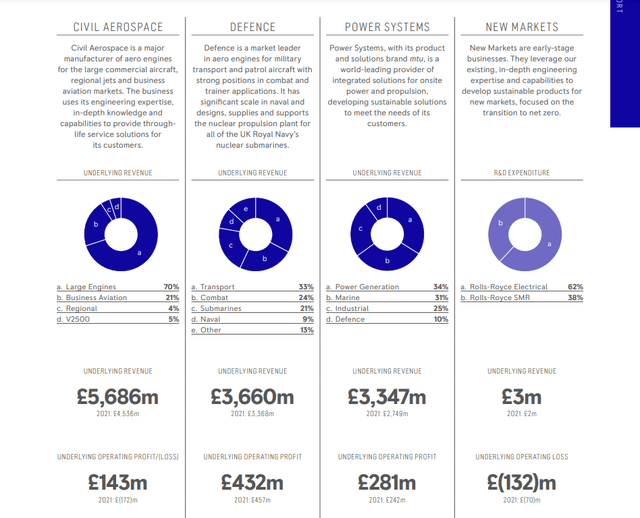 Defence is largely fossil fuel powered turbines (i.e., jet engines). Civil aerospace is jet engines, power systems is turbines – the business is largely jet engines with an assist from the closely allied turbines technologies.
OK.
What happens to the jet engine business pretty much determines what happens to Rolls-Royce. Sure, we can think that they'll get into different businesses and so on (reactors etc) but that's like betting on start-up companies. It's also not really how large companies work. Very few – Apple being about the only one I can think of – successfully pivot their business from one area to another. The reason is that they're optimised to do the thing they do. So, being asked to do another thing just isn't something they're good at.
I have actually been in the supply chain to RR at times (rhenium for the alloy in the jet engine blades) and they're simply excellent at making sure they get what they need. I've also been in another supply chain (one of the rare earths) where they were developing a new tech and boy, were they slow. Sure, that's only personal experience and so of little evidential value. But I'd bet on RR staying top of the jet engine business and I wouldn't on developing a new tech.
But our question is, will the jet engine sector survive?
That's the extinction level event.
It's easy enough to look at the world out there and see those insisting that jet travel just has to stop. Or be scaled down massively at least. Myself I think it's antinomianism. Only the elite should be allowed to fly to those climate change conferences in warm places in winter. Everyone not of the new elite should stay home and shiver in the dark as they nibble turnips. Which might be a fairly choleric view but then I've been a journalist for 20 years now so my liver is so shot that such dyspepsia is my resting state.
Take out that personal view and it's still obvious that there's a very large movement insisting that et travel just must stop. Some to many might even believe it's all about climate change – even though aviation is only 2% of global emissions – while some just think that such hypermobility is a bad idea in itself.
But that movement exists. And climate change – whether it's the reason or the excuse – means that there's a real possibility of jet engines not being used at some future date.
As I say, whatever the reasoning we attribute to the movement it's obvious that it's there. And if Rolls-Royce doesn't do jet engines then really, there's not much of a Rolls-Royce to be doing anything.
This recent short term
Yes, RR got hit very badly by lockdown. There was an emergency rights issue as a result, nastily dilutive. That's an interesting proof of my above statement, that jet engines really are the heart of it.
It's also possible to explain a little more. Sales of jet engines are interesting – a bit like the people who sell coffee pod machines, or ink jet printers. The point is not to sell the engine, it's to sell the 30 years of maintenance and service that the engine then requires. Rolls-Royce charges for this by hours spent in the air per engine.
Lockdown wasn't a problem because grounded airlines don't buy engines. Lockdown was a problem because grounded engines don't rack up air miles and therefore hours in the air service charges.
That problem is now gone, even IAG is now reporting that traffic is back (IAG being a useful bellwether, unlike the short haul airlines IAG flies the intercontinental flights where RR is even more dominant).
OK, we've also got the switch in CEO, he's making all the right noises about radical change and so on. We've had a jump in the share price this past week as a result.
Jumping on that share price rise could be said to be just recommending a momentum trade and if that were all then the correct reaction is so what? Regular readers will know that I'm always much more interested in the deeper background than that though.
The way out of the extinction level event
But what if there was a way out of that end of the jet engine? I've long muttered that I think there is. We have three possibilities in essence. We can stop long distance air travel, we can try to power it with something other than jet engines, or we can synthesise the fuel to feed the current method of having long distance air travel.
Option one is unappealing because people really, really, like air travel. We'll come to a proof of that in a minute. Option two, well, those battery powered planes (or airships, or hydrogen, ammonia and all the rest) don't really solve the problem because none of them are – or will be – efficient. Option three is the only one that preserves Rolls-Royce in anything like its current form. Or, as I'm insisting, in a form that preserves value.
OK, so how likely is that?
Synthfuel
Just this past couple of weeks we've had two pieces of information which make me think that option three is not only possible (I've long insisted it is possible in fact, but have havered over the price) but is not likely.
The first is a report from the Royal Society. They're specifically looking at how we might power air travel. One conclusion of which is that yes, synthfuel (green hydrogen from electrolysis, CO2 captured from air, reformulation up to jet fuel) is entirely possible as a solution. At a cost of course, at a cost. The advantages are that we can continue to use all the things we've already built, all the things we're already good at we just fuel them differently. This is of course my option three – the one in which Rolls-Royce continues to manufacture and service jet engines.
They make one odd assumption – perhaps it's only illustrative – which is that to feed the UK the jet fuel it uses would require lots and lots of electricity. Which is true, but the assumption seems to be that that must be UK generated. Which is odd. We're to analyse international transport while ignoring the possibility of international transport? The UK doesn't make all its own jet fuel right now, why assume that in the future it will or must?
After all, there are parts of the world where green electricity is really cheap, it's transporting it to where it is to be used – and when – that is expensive. A solar panel in Abu Dhabi might give us cheaper jet fuel than one in Skegness – as an oil well in Abu D currently does of course. So, we should relax one of the Royal Society constraints and allow international transport of jet fuels, right like the system is now.
The Royal Society then estimates current jet fuel at $1 and a bit a litre. I've seen other numbers that say $1.40. Synthfuel is likely to be – at least to start with – more expensive than this. OK, but how much?
Which is where the other new piece of information comes in. Porsche has been chuntering about their new synthpetrol plant just off Tierra del Fuego (consistency of winds is the point there) which seems to produce petrol at $2 a litre. Sure, $7 a US gallon will horrify drivers in the US but international aviation? Well….
Aviation price sensitivity
So, how sensitive is the demand for flying (by jet engine) to the price of jet fuel? Yes, people do fly less when air tickets go up because the oil price has. Plays merry hell with the finances of the airlines as well.
But we've another possible measure. The UK has Air Passenger Duty. Really, it's a tax on the CO2 emissions of flying. As it happens it's not far away from this difference in price between fossil fuel derived and synth jet fuel. It's of the same order at least. And yes, people do still fly out of the UK. In large numbers.
Some will take a short hop (and pay short hop APD) and then take their long-haul flight from another European country. Also many don't. It affects matters at the margin, sure. And thus affects airlines because they operate on thin margins. But it doesn't kill off flying.
That is, the likely price rise from using synthfuels, at extant techs and prices – that $2 a litre – likely leaves continuing to use the jet engine as the best manner of gaining flight. Which means Rolls-Royce dodges that extinction level event of us all not being allowed to use jet engines.
Yes, yes, yes
I know, this isn't a prediction of immediate cashflows and it's not even a commentary on the likely immediate share price. It's most unlike traditional investment analyses. It's not even an overall look at Rolls-Royce it's a commentary on one particular problem.
However, this does remove what I've thought to be the greatest risk to RR.
My view
I've long been worried that there simply won't be a jet engine business for Rolls-Royce to be in. I have little faith in their ability to Skunk Works their way out of this. I've also long mused that perhaps synthfuels is the proper method of dealing with our desire for air travel.
These now all come together. We've actual experimentation showing that petrol can be synthesised at $2 a litre. We've the Royal Society stating that if – if – synthfuel then maybe sticking with the current jet engine technology works. Both on climate and also on effectiveness grounds. Depends upon price. I say that price is close enough to enable the jet engine to remain the technology of choice.
So that risk of the extinction level event is now lifted from Rolls-Royce. That means to me that RR goes back to being something to buy and sit on for the decades. This isn't a call to try to trade the current price. Nor is it insisting that there will be short term profits. Rather, Rolls-Royce really is excellent at one thing, those jet engines. Now that I can see a way for that sector to survive the climate change fuss then it's a buy. Small amounts of course, pension fund style holding periods.
Why I'm wrong
Well, it's always possible that politics will intervene. That the antinomians will win for example. Rolls-Royce has, in the past, shown it can drive itself bust by overinvesting in a specific jet engine. The current price might look a little rich given the rises of just the past couple of weeks.
This is all really about Rolls-Royce being – potentially – able to beat that extinction. That lifts a weight off the share to my mind.
The investor view
As above, I'm not suggesting an immediate rerating of Rolls-Royce. I'm noting, more than anything, a reduction in the weight holding the share price down. That risk that in a decade or two jet engines simply won't be allowed. I'm therefore suggesting the tucking away of a few – no, not the house money, just a modest amount – for the long term.
Editor's Note: This article discusses one or more securities that do not trade on a major U.S. exchange. Please be aware of the risks associated with these stocks.