These issues, ranging from nearsightedness and farsightedness to glaucoma, are increasingly linked to lifestyle choices, including screen time. Some studies have suggested that blue light from screens can damage retinal cells, leading to problems like macular degeneration. Others have linked screen time to a condition called "digital eye strain," in which users suffer from frequent headaches, blurred vision, and dry eyes.
HONOR is keenly aware of this growing global problem and wants to make sure it is doing its part to protect its users from vision issues, which could see them struggling to read distant signs or squinting to decipher small characters.
At this year's Mobile World Congress, the company launched several innovations alongside the HONOR Magic5 Pro and the foldable Magic Vs that will not only help increase eye comfort and reduce eye strain, but may also help improve quality. sleep of users.
Blue light emission
TÜV Rheinland, a German company that publishes guidelines for measuring and evaluating company claims that address the blue light problem, has certified that the HONOR Magic5 pro has passed its Low Blue Light certification.
Many studies have shown that blue light can interfere with your sleep by tricking your brain into thinking it's daytime, which can keep you awake if you use your device before bed. Blue light can also suppress the production of melatonin, your body's natural sleep-inducing hormone.
The HONOR Magic5 Pro has another feature called Circadian Night Display. By reducing the levels of blue light emitted from the Magic5 Pro's 6.81-inch LTPO display, HONOR helps you sleep better at night. This feature will also reduce digital eye strain, so your eyes won't feel so tired at the end of the day.
The HONOR Magic5 Pro is also the first smartphone to achieve TÜV Rheinland Circadian Friendly certification.
Dynamic dimming
HONOR isn't just a forerunner when it comes to blue light reduction. The company pioneered the application of "Dynamic Dimming Screen" technology with the HONOR Magic Vs and HONOR Magic5 Pro. This feature simulates the dynamic change of natural light and sees the screen's color temperature automatically adjusted based on the circadian rhythm.
This unique technology can reduce eye strain by promoting blood circulation through intelligent rhythmic light technology. Experimental results show that the HONOR Magic Vs can reduce eye fatigue by about 18% in 45 minutes under stable light, and this feature can increase average sleeping time by 30%.
The HONOR Magic5 Pro also features the industry's first LTPO display with 2160Hz Pulse Width Modulation (PWM) dimming technology to minimize screen flicker and help improve eye strain. This is a perfect feature for those who spend many hours in front of their smartphone.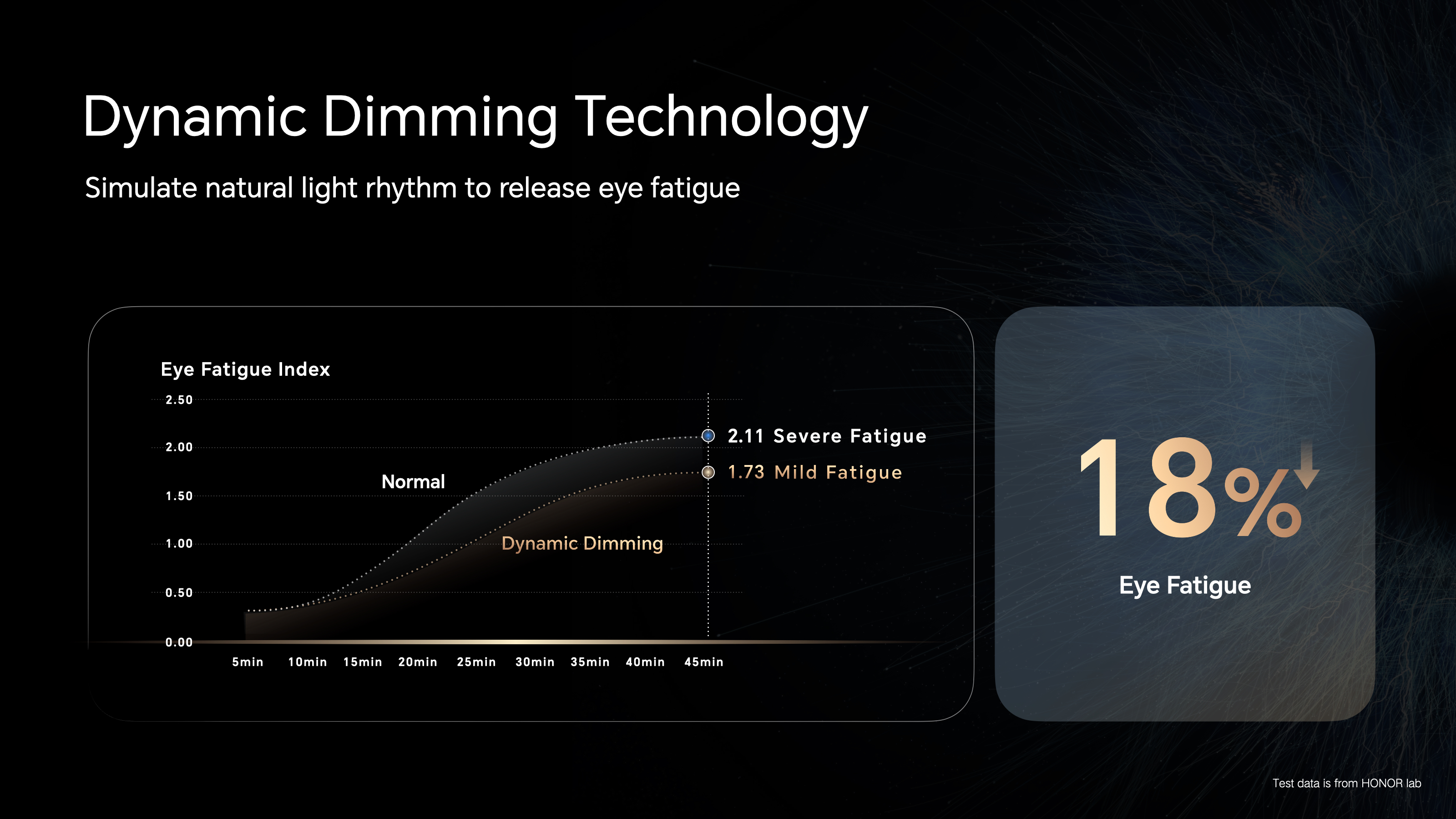 DXOMARK Champion
With the introduction of these innovative eye-comfort features, it is perhaps no surprise that the HONOR Magic5 Pro has risen to the top spot in the DXOMARK smartphone display rankings with a score of 151.
The DXOMARK test indicates that the HONOR Magic5 Pro offered very good readability, with a setting that made it comfortable to see in all the lighting conditions tested. Even in outdoor usage scenarios, the HONOR Magic5 Pro delivers a maximum HDR brightness of 1800 nits for clear visuals in direct sunlight thanks to its new display luminance enhancement technology.
Are you excited to get your hands on the new HONOR Magic5 Pro? If you want to know more about what the model offers and when you can buy it, visit the launch location of the event (opens in a new tab).